Who We Are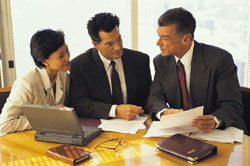 We are a professional and full-service boutique firm with the following specialties:
Employee Benefits
Annuities
Buy-Sell Business Life Insurance
Key-Person Business Life Insurance
Personal Life Insurance
Accidental Death & Dismemberment Insurance
Disability Income Protection
Long-Term Care Coverage
Group Health Insurance
Individual / Family Health Insurance (Ages Under 65)
Medicare Supplement / Advantage Plans (Ages 65+)
Retirement Plans
We guide our clients and help them to protect their assets, reach their financial goals and build wealth. Our goal is to assist each client to establish a clear road-map for managing risk, working towards financial security and achieving success.

Our philosophy is to earn our clients' trust and build solid, long-term relationships by conducting our business with the utmost integrity.

We present valuable solutions, offer quality products from the most reputable companies in our industry and provide outstanding service.

The majority of our new business is based on referrals and "word of mouth". This is due to strong support from our clients. In many cases we are already servicing the second and third generations of our original clients' families (their adult children and grandchildren).
We are also recommended by many local professionals: Attorneys, Bankers, Business Consultants, CPAs, Financial Planners and Tax Professionals, as well as by colleagues from Property & Casualty insurance agencies.

Each client receives personal attention and customized recommendations based on their specific goals, needs and budget.

Each case represents a new challenge. Some analyses, reviews and strategies are simple while others can be quite complex. Many evolve over time as the needs of the clients change.

During the past 30+ years we have established tremendous resources; so we are well suited to service our clients in every stage of their lives, growth and / or changes to their estate and assets.

We look forward to working with you and contributing to your prosperity and well being!