Code of Ethics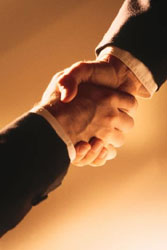 James K. McCauley, CLU (Owner / Broker) and any / all agents, support staff, service providers and/or freelance consultants representing his agency commit to provide extraordinary customer service, creative solutions, as well as to offer top quality financial and insurance products from some of the most reputable, solid and highest rated companies in the industry.

Most important, they commit to conduct their business in an ethical, professional and legal manner. This Code of Ethics is a key component of the agency's policies and procedures. It reflects the core values and principles that guide its operations.

COMPLIANCE WITH LAWS AND REGULATIONS:

The James McCauley Team fully adheres to all applicable federal and state laws, regulations, standards and compliance requirements.
MARKETING AND PUBLIC RELATIONS:
The firm's advertising, marketing and public relations is truthful and not intended to mislead. Claims about its activities, products and services are based on facts.
COMPETITIVE PRACTICES:
They strive to have a positive relationship with ALL other industry providers and to comply with ALL applicable laws pertaining to ANTRITRUST and COMPETITION.
QUALITY AND EQUITABLE SERVICE TO ALL CLIENTS:
Jim McCauley and all those individuals representing his firm provide the same level of outstanding service consistently to all his clients; without regard to race, color, national origin, religion, age, sex, disability or sexual preference.
FAIR TREATMENT OF ALL EMPLOYEES:
Jim McCauley is an Equal Opportunity Employer and ensures that all agents, support employees and/or freelance consultants are afforded non-discriminatory terms, fair conditions and a "harassment-free" environment, in accordance with the law; regardless of race, color, national origin, religion, age, sex, disability or sexual preference.

SUMMARY:

ALL prospects, clients, affiliates, suppliers, providers, consultants, agents and/or employees of JAMES K. McCAULEY, CLU can expect:
INTEGRITY, PROFESSIONALISM, VALUE & EXCELLENCE!